Honouring the anniversary celebrants
Stephanskirchen/Ziegelberg – 600 is the total number of years clocked up by the 23 anniversary celebrants who have been working at Hamberger for 25 and 50 years. A proud record. 22 anniversary celebrants were able to look back on 25 years of service with Hamberger, with an impressive 50-year anniversary also being celebrated. The anniversary celebrants were honoured on 27 November 2015 at the jubilee celebration by Dr. Peter M. Hamberger and Peter Hamberger.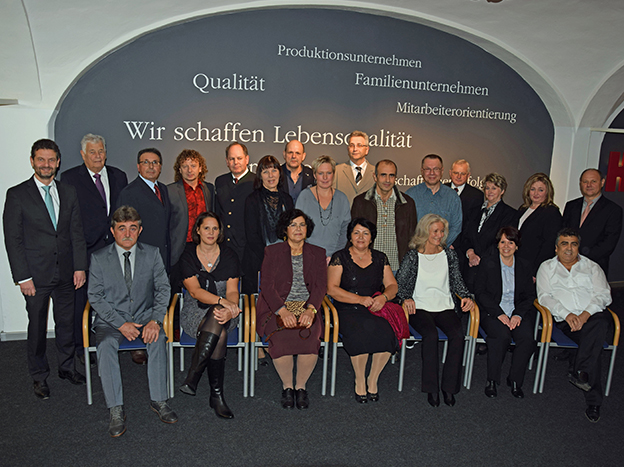 "They have lived through and played their part in shaping numerous changes. We are proud to have such a large number of colleagues who have been with us for such a long time and who have contributed significantly to the success of our global business thanks to their dedication, flexibility and loyalty", stressed Dr. Peter Hamberger. He thanked each one individually as he looked back briefly on the 149 years of the company's history in pictures.
He especially recalled the year 1990, the year of reunification of the two formerly divided German states. The 22 anniversary celebrants with 25 years of service, including Birgül Korkmaz, Giuseppe Rametta, Stefan Frank, Adam Kluczniok, Habib Yamanoglu, Petra Wagner, Slawomir Peter Nalbach, Inka Wenzl, Selami Imrol, Roman Basta, Norbert Gorzolka, Klaus Diehl, Christof Mika, Artur Patynko, Manuela Kecht, Bogumil Waligorski, Andreas Göttert, Gregor Grabinski, Karin Gorjatschew, Tanja Rupp, Sultan Saglam and Anna Pilich-Brajza, associate this year however also with the start of their career at Hamberger. Some of the anniversary celebrants started their professional lives with Hamberger as apprentices and have since worked in various departments in the company. Others have stayed true to their original activity over all of those years.
Ms. Walburga Wanninger, who celebrated her 50-year anniversary with the company, has very different memories of the company. Born in 1950 in one of the then company apartments on the Hamberger company premises, she started work at the age of 16 in Parquet Plant 1 after graduating from school where she remained until her retirement. And even in her retirement, she still lives in one of Hamberger's last remaining company apartments. Ms. Wanninger's long period of employment is steeped in tradition and is a family legacy so to speak. Her great-grandfather worked back in the day in the Hamberger brickworks. He was followed then by her grandfather, who likewise worked for almost 50 years in brick production. Her uncle also spent almost 50 years employed by the company. Ms. Wanninger therefore also experienced the end of the 102-year brick production in 1968 as a result of a large fire on the company premises.
Bronze and gold medals and certificates from the Chamber of Commerce for Munich and Upper Bavaria (IHK) were presented to the anniversary celebrants on behalf of the Bavarian Ministry of State for Labour and Social Affairs to mark their 25 and 50 years of loyal service. They also received a loyalty bonus and a gift hamper in recognition and thanks. The Second Mayor of Stephanskirchen, Karl Mair, congratulated the anniversary celebrants and presented them with a small gift in recognition of their many years of professional dedication.