Hamberger fundraising campaign
Rosenheim – To help refugees become more closely integrated into German life, it is important that the different cultures get to know one another better. That is one of the objectives of the "Socially Integrative City of Rosenheim" programme. Hamberger donated a new HARO laminate floor to one of these meeting places and installed it together with helpers from Rosenheim.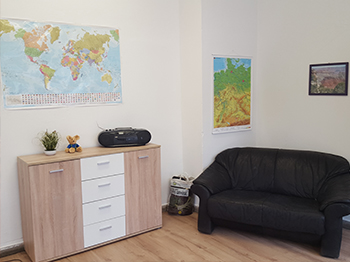 The "Socially Integrative City of Rosenheim" is an action programme, whose mission is to help those less fortunate than others. The City of Rosenheim has already been involved with this project since 1999 and deals for the most part with the topic of refugees. The goal is not just to provide help with German language courses or in searching for accommodation but primarily also to encourage interaction between inhabitants and refugees.
One aspect of this project is "Nordtreff", a district meeting place in the North of Rosenheim. People from Afghanistan and Pakistan are invited to an informal gathering here, which is held twice a week. Topics include learning German, history and culture as well as support for people originally from Afghanistan but now living in Germany.
The rooms at the meeting place are provided by the GRWS Wohnungsbau- und Sanierungsgesellschaft, Rosenheim, and fitted out with the help of donations. Hamberger has also played its part in this project. Together with employees of the "Socially Integrative City of Rosenheim" and other volunteers, Hamberger installed a new HARO laminate floor in the meeting place. This flooring is not only especially durable, but also has an attractive appearance. Some 60 m² of HARO "Loft Oak Verano" laminate flooring was installed by volunteers in their free time. HARO laminate flooring was recently voted best in class by FOCUS Magazine as the best laminate in terms of product quality with outstanding German workmanship.