Chinese Consul General visits Rosenheim
The new Chinese Consul General Ms. Mao Jingqiu visited the Rosenheim region together with her delegation on 21 July 2016 at the invitation of businessman Walter Schatt, Schattdecor AG Thansau.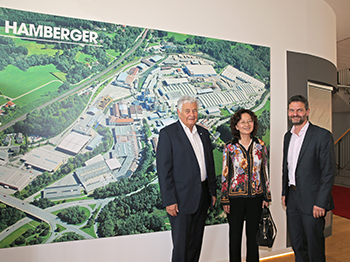 Ms. Mao Jingqiu, who took up the role of Consul General at the Consulate General in Munich in April 2016, started her visit at the University of Applied Sciences in Rosenheim where she was warmly welcomed by President Prof. Heinrich Köster. Prof. Köster introduced the range of courses offered by the university in the area of international education focusing on future measures with China and reported on the exchange with the Chinese partner universities in Nanjing, Suzhou and Sichuan.
Ms. Mao Jingqiu followed this up with a visit to the Lady Mayor of Rosenheim, Ms. Gabriele Bauer. After signing Rosenheim's "Golden Book", Ms. Bauer and Ms. Mao Jingqiu discussed the current political climate in general and likewise the topic of a potential twinning arrangement.
Following lunch in the Gocklwirt restaurant at Lake Simssee, the next stop on the tour was Hamberger Industriewerke in Stephanskirchen. Peter Hamberger and Dr. Peter Hamberger warmly welcomed the Chinese delegation and presented the various activities of the company in China. For example, Hamberger Sanitary produces WC seats for the global marked in Kunshan in China and Hamberger Flooring is now represented in China with 70 HARO shops. Ms. Jingqiu expressed her thanks for the invitation and for the briefing by what she termed a "Hidden Champion" and also for the explanation of the various design options available with HARO flooring and WC seats.
The official programme finished up with a visit to Schattdecor AG in Thansau. CEO Reiner Schulz, together with Chairman of the Supervisory Board Walter Schatt, jointly explained the significance of the Asian market for Schattdecor, which operates two production locations in China.
All of Ms. Mao Jingqiu's discussion partners voiced their compassion for the Chinese nationals attacked in Würzburg and expressed their sympathy.
The visit to the opening concert of the 24th Chamber Music Festival 'festivo' in Hohenaschau brought the informative day to a perfect cultural ending for the Chinese Consul General.